Time4results - news
WMA Champs - 05.08.09 10.58 Webmaster
WMA 2009 Championships 28.7.-8.8.2009, Lahti
Read more...
Read 1235 times
Speed skating timing system - 19.12.06 15.33 Webmaster
Time4results delivered a timing system for speed skating to Helsinki.
Read more...
Read 2445 times
Reefline Oy (time4results) is a finnish company working on the area of sports IT-services and technology. We develop sports software and do results service and timing service. We also sell timing equipment e.g. photofinish cameras and accessories.
Masters World Championships were success!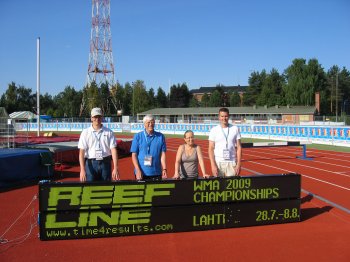 Reefline crew in Lahti:
Ville Aho, Kari Utulahti, Sari Heino and Esa Mikkonen.